Registration
---
2020-2021 Player Registration Fees
NEW for 2020-2021 Season
$99 - First year player fee
U10, U12 and U14 Divisions.
Applicable for any "new to ringette" player, playing ringette for the first time.
---
FEES
(subtract $50 from all divisions except Active Start and New to Ringette if registering before July 31, 2020)
NEW for 2020-2021: Players who are new to ringette pay only $99 (plus $150 fundraising fee) when registering for U10, U12, or U14
Birth Year
Division
Fundraising Fee + Fees
Total
Notes
2014 - 2015
Active Start
$99 + No Fundraising Fee
$99
2012 - 2014
U10 - Step 1
$500 + $150 Fundraising Fee
$650
*Base registration fee is $500, once your athlete is placed in Step 1, 2 or 3, the amount owing for registration will increase accordingly.
2012 - 2014
U10 - Step 2
$550 + $150 Fundraising Fee
$700
*Base registration fee is $500, once your athlete is placed in Step 1, 2 or 3, the amount owing for registration will increase accordingly.
2011
U10 - Step 3
$600 + $150 Fundraising Fee
$750
*Base registration fee is $500, once your athlete is placed in Step 1, 2 or 3, the amount owing for registration will increase accordingly.
2009 - 2010
U12
$750 + $150 Fundraising Fee
$900
2007 - 2008
U14
$775 + $150 Fundraising Fee
$925
2005 - 2006,

2003 - 2004

U16,

U19

$775 + $150 Fundraising Fee
$925
2001 and older
OPEN
$475
$475
(* Number of teams in each division will be determined based on number of players enrolled. The division that each team will be placed (A, B, C) will be determined at time of team selection.)
---
Open Division
SPRA currently has 3 Open B teams. Previous players of these teams have priority registration, players may be added to the teams if there is space available on their rosters.
We are also taking registrations for those interested in playing Open who do not have a team. There is currently no guarantee on whether there is enough interest to form another team and what level it would be.
Please contact our Open Coordinator (Amanda - email opendirector@sherwoodparkringette.ca) if you'd like to play on or manage a new Open team.
Fundraising Fee
Raffle tickets will be distributed in October.
You will have an opportunity to recoup you fundraising fee by selling your raffle tickets. The Raffle has been changed to a "Cash for Christmas" raffle for this season rather than travel vouchers.
U10 Registration Fees
U10 Step 1, 2, 3 fees have been adjusted this season to align with the amount of ice each Step is allocated. Step 1 and Step 2 will play half-ice games for the 2020/21 Ringette Season. Step 3 will continue to play full ice games. Step 1 ice allocation will conform to the Guidelines as set out by Ringette Canada and Ringette Alberta and adopted by Black Gold Ringette League. As participants are assigned to teams based on the criteria set out in Children's Ringette (Yourringette.ca), SPRA will add the applicable fee to your account and provide notice by e-mail from SPRA's registrar to indicate an additional fee is payable and will be added to member's payment plan.
Evaluations
For specific information about the evaluation process, please refer to Evaluation Guides that will be posted on SPRA's website for each Age Division by August 1, 2020. Evaluation Schedules will not be released until a return to play guideline has been released by Ringette Alberta.
---
Current Situation
SPRA is committed to providing a safe return to ringette for our members. SPRA's Board of Directors are staying updated as information is communicated by Ringette Alberta and their work with the Alberta Government on a return to play plan. SPRA will continue to work on a contingency plan to have in place with respect to a modified season structure and/or program delivery, based on recommendations and requirements from Ringette Alberta. Season fees will be reviewed and adjusted accordingly based on a return to play plan and/or start / stop to the season.
---
Why Register Now?
SPRA encourages all our members, if they intent to play ringette this 2020/21 season, to register now. This helps our association plan for the start of the season, however that may look, as we want to ensure that we are able to provide programming for all members.
If you register early, between June 15 and July 31, you are only required to pay a deposit of $50 and in turn, receive a $50 credit on your account to apply to your registration fees when due. Registration Fees are not due until a return to play / evaluation schedule is announced. Payment plans will not only be available this season but we encourage everyone to take advantage of this option, at no cost to you.
---
Payment Plan
This year, SPRA will only be doing credit card payments (no Interac or cheques) to facilitate the possibility of changes to fees. *Please contact the Registrar at spra.registrar@gmail.com if you have an exceptional circumstance that does not allow you to pay by credit card.*
$50 Deposit - June 15 - August 31, 2020
$50 off season fees for early registration between June 15 and July 31. (Applies to each registration)
Payment is fully refundable until the start of evaluations or start of the season, whichever comes first
Payments will be spaced out September 15-December 15, 2020. Interruption or delay of season will result in adjustment of fees.
---
Refund Policy
Please refer to SPRA's refund policy in the Guidelines and Procedures Manual on SPRA's website.
About/Operations/Guidelines and Procedures Manual, Page 12,13 Item 5.5.
---
Player Requests
Please review the following documents regarding the request for players to be placed on a specific team or paired with another player:
---
Equipment List
Here is a list of player equipment to assist you.
CSA Approved Helmet & Ringette Certified Facemask
BNQ Approved Neck Protector
Elbow Pads
Shoulder Pads
Ringette / Hockey Gloves
Hip / Tailbone / Genital Protection
Shin Guards / Knee Protection
Hockey / Ringette Skates (no picks allowed)
Practice Jersey
SPRA Ringette Pants - required to be worn at all games and tournaments
Generic Ringette Pants - required to be worn at all practices. SPRA Ringette Pants not recommended
Certified Ringette Stick
RECOMMENDED Equipment: All players - mouth guard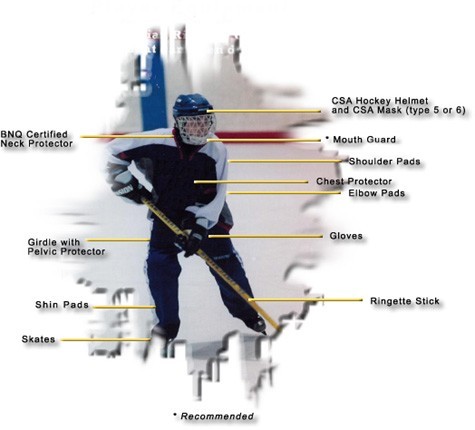 Goalie Equipment (at most Divisions): Is provided for by the Association (pads, blocker, catcher, gel glove, body armour, goalie stick)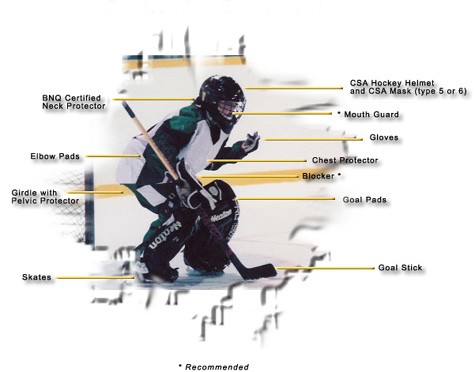 ---
Evaluation Information
Ringette Alberta UAA Evluation Drills - How To Video
---
Parents